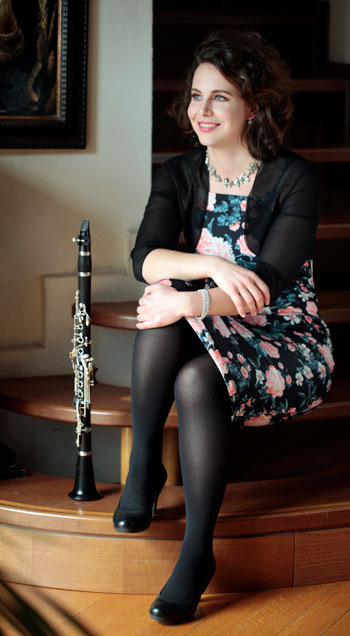 Kymia Kermani is an award-winning clarinettist who learned at the Conservatory of Amsterdam and the Royal College of Music and worked with eminent orchestra`s like Staatskapelle Berlin, NDR Elbphilharmonie Orchestra. Royal Philharmonic Orchestra and the West Eastern Divan orchestra. Born in the Netherlands, Kymia attended Amsterdam Conservatory's Young Talent Class at fifteen, graduating on the Bachelor with Distinction. She finished her master studies in 2011 as a scholar at the RCM and was generously supported by the VSB, Mengelberg and Prins Bernard Cultuur foundations and the Stichting Fundatie voor de Vrijvrouwe van Renswoude.
As a soloist, Kymia has performed the world premiere of a concerto by Dutch composer jan van Dijk as well as performing the oldest concerto ever written by baroque composer J.M. Molter. Kymia has performed throughout Europe, Africa and the Middle East.
2011 saw Kymia perform at the Royal Albert Hall and the Cadogan Hall as part of the RCM 'Rising Stars' series. She is a recipient of the RCM Clarinet Prize, the RCM Bass clarinet prize and the RCM Woodwind Ensemble competition prize. Kymia has appeared several times on Dutch Television and also on BBC Radio 3. In 2012 she was invited to participate at Banff Summer Arts Festival (Canada), Harare International Festival of the Arts (Zimbabwe) and a tour with the Royal Philharmonic Orchestra conducted by chief conductor Charles Dutoit brought her to Spain. Summer 2014 she had the honour to join a tour with the West-Eastern Divan Orchestra and Daniel Barenboim performing in Buenos Aires, Lucerne Festival, Salzburger Festspiele, London BBC Proms and Waldbühne Berlin. In 2021 she played in the NDR Elbphilharmonie Orchester with Alan Gilbert. Since 2018 she has also taken part in productions such as "Mary Poppins" and "Frozen" playing clarinet, e-flat clarinet, bass-clarinet and tenor-sax at Theater an der Elbe.
The CD "Ode to the Rhapsody" with four world premiere recordings for clarinet and piano was released with Duo Kermani-Gentili in November 2018 under the German label "Genuin". A new CD with world premiere recordings by female composers under the MARLIE label is planned for 2022, the research for this production was made possible by a grant from the Musikfonds in 2021.
In her new home town of Hamburg, she founded the 'Sinn-Phonietta' in 2020 in collaboration with Sönke Klegin: the only large ensemble in this line-up in northern Germany, which, with its 20 instrumentalists, is dedicated to iconic works of the 20th century and brand new compositions by young composers. In 2021 she produced four concerts and two school concerts with the Sinn-Phonietta in Hamburg and Lower Saxony with the program "Chamber Symphony Reloaded – A View from the Future" and was generously supported by numerous foundations.
As part of the Hamburger Kultursommer, in 2021 the Fischbeker Musiksommer was founded. She acquired funding, sponsors and successfully produced ten concerts with 70 freelance artists from Hamburg and the surrounding area.
In addition to her work as a freelance clarinetist in various orchestras and chamber music groups across Europe, Kymia teaches clarinet in Berlin and Hamburg.