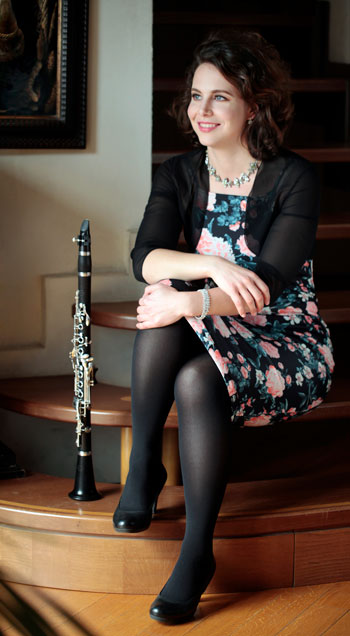 Dutch-Iranian clarinettist Kymia Kermani attended the Amsterdam Conservatory's Young Talent Class from the age of 15, where she graduated with distinction. She continued her studies on a scholarship at the Royal College of Music in London and was generously supported by various foundations.
Kymia played the world premiere of the clarinet concerto by Dutch composer Jan van Dijk as a soloist. She also played the oldest concerto ever written by the Baroque composer J.M. Molter. Kymia has performed throughout Europe and the Middle East, playing with major ensembles and orchestras such as the Royal Philharmonic Orchestra, NDR Elbphilharmonie Orchester and the Staatskapelle Berlin.
During her studies in London, Kymia played at the Royal Albert Hall and Cadogan Hall as part of the "Rising Stars Series" and received the RCM Clarinet and Bass Clarinet Prize, and the RCM Woodwind Ensemble Competition Prize. Kymia has appeared on Dutch Television and BBC Radio 3 and was invited to the Banff Summer Arts Festival and Harare International Festival of the Arts Zimbabwe in 2012. A tour with the Royal Philharmonic Orchestra conducted by chief conductor Charles Dutoit brought her to Spain.
In 2014, three chamber music tours took her to Milan and Norway, and would have the honour to tour with the West-Eastern Divan Orchestra and Daniel Barenboim to Buenos Aires, Lucerne Festival, Salzburg Festival, London BBC Proms and Berlin. Since 2018 she has been working at the Theater an der Elbe in productions such as "Mary Poppins" and "Frozen" where she plays clarinet, e-flat clarinet, bass clarinet and tenor saxophone.
She is a permanent member of Duo Kermani-Gentili and Ensemble Holzfabrik, which designs educational projects for children and young people. In the last two years, her work has been supported by the GVL scholarship programme NEUSTART Kultur and Musikfonds.
In her hometown of Hamburg, Kymia Kermani founded Sinn-Phonietta in 2020, of which she is artistic director and production manager. The Sinn-Phonietta is the only large ensemble of this line-up in northern Germany, which with its 15 musicians is dedicated to important works of the 20th century and brand-new pieces by young composers.
In 2021 she organized four concerts and two student concerts with the Sinn-Phonietta in Hamburg and Lower Saxony. The program "Chamber Symphony Reloaded – A View from the Future" was generously supported by many foundations.
As part of the Hamburg Cultural Summer, she founded the Fischbeker Musiksommer in 2021. For this purpose, Kymia has acquired funding and sponsors for ten concerts with a total of 70 freelance artists from Hamburg and the surrounding area. August 2022, the festival 'Klassik im Waldhuuske' took place in Rosengarten near Hamburg and was financially made possible by the program Landmusik of the German Music Council. In addition to her work as a freelance clarinettist in various orchestras and chamber music groups throughout Europe, Kymia teaches in Berlin and Hamburg.